How to find the best LED driver in China
How to find the best LED driver in China
Time:2021-04-24 / Read:790
Looking for the best LED driver power supply in China(alibaba.com)
Have you been looking for LED driver power in China?
But in the face of the various types of LED power supply in the Chinese market, how should we choose high-quality products?As you all know, in China, one of the most brand drive power supply manufacturer: Sosen power, Moso power supply, Taiwan Mean Well Power, power, and Inventronics Power supply and so on, these brands of power supply is also has a great influence in the world, but the price of these power tend to be expensive, if buy the brand of power supply, may greatly exceed the budget;So, how to find and big brand power supply quality equal, and affordable power supply manufacturers?The answer is: China ShenZhen YSD Technology Co., Ltd.Our team of lighting drive experts can match you with the ideal LED drive transformer, including LED switching power supply, LED dimming power supply.In research of masters, we feature A variety of CP series dimming transformer that move light will you decoration and style to A new level, and not beyond your budget, of course, in addition to the CP series adjustable light power supply, YSD also has A/B series of waterproof power supply, D slim power supply series, E series semi filled glue power transformer, C series switching power supply and other 10 kinds of series products are exported to North America, Europe,Australia, South America, Southeast Asia and more overseas markets.You do not need to buy expensive LED drive power supply in China. The products of Yanshuoda can be comparable with big brand power supply in appearance and performance, and the price is reasonable.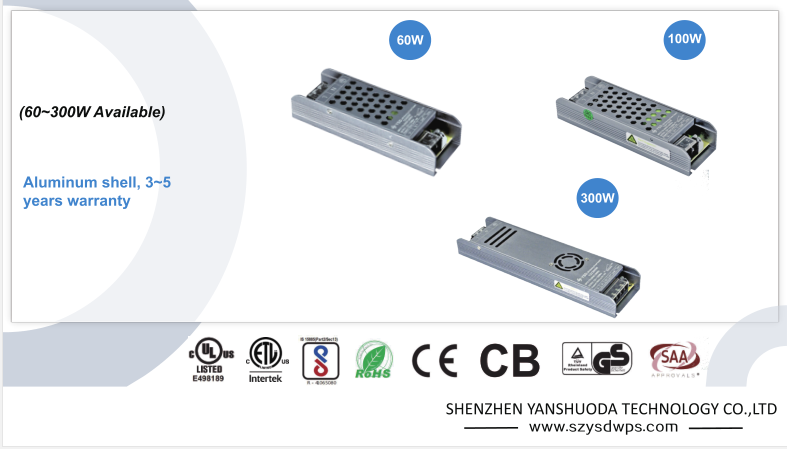 In addition, we also have other multi-purpose LED power products for you to choose, to ensure that you purchase in YSD LED drivers no matter indoor decoration, or outdoor lighting, or large landscape lighting projects, we will provide you with the most appropriate lighting options, both durable and energy saving.As a self-developed and produced LED drive power supplier, we have 13 years of experience in the professional drive power industry. Therefore, we always put the interests and satisfaction of customers in the first place, and always strive to surpass the peers to become a big brand.
Choose YSD LED drive power supply, for your lighting equipment to provide the best solution, showing the most perfect lighting!