250W DALI2.0+PUSH-DIM 2in1 dimming driver
250W DALI2.0+PUSH-DIM 2in1 dimming driver
Time:2023-07-03 / Read:55
This power supply combines DALI 2.0 and PUSH dimming together, sharing a set of dimming lines, easy for customers to use, without any operation, the power supply automatically recognizes DALI and PUSH signals; 250W constant voltage high power, efficiency up to 92%, power factor Can be as high as 0.96; metal shell design, filled with silica gel inside, good heat dissipation, longer life, IP67 protection level design, can be used indoors and outdoors; with short circuit protection, overload protection, over temperature protection; input voltage range 90-305Vac, Suitable for most power grids in the world. Has obtained TUV-CE CB ROHS BIS certification.
The main technical parameters:
Input voltage: 90-305Vac,
Output power: 250W,
Efficiency: up to 92%,
Power factor: up to 0.96,
Total harmonic distortion: <10%,
Protection class: IP67,
Working environment temperature: -40--60℃
Dimming method: DALI2.0+PUSH two-in-one dimming,
Protection function: short circuit protection, overload protection, over temperature protection.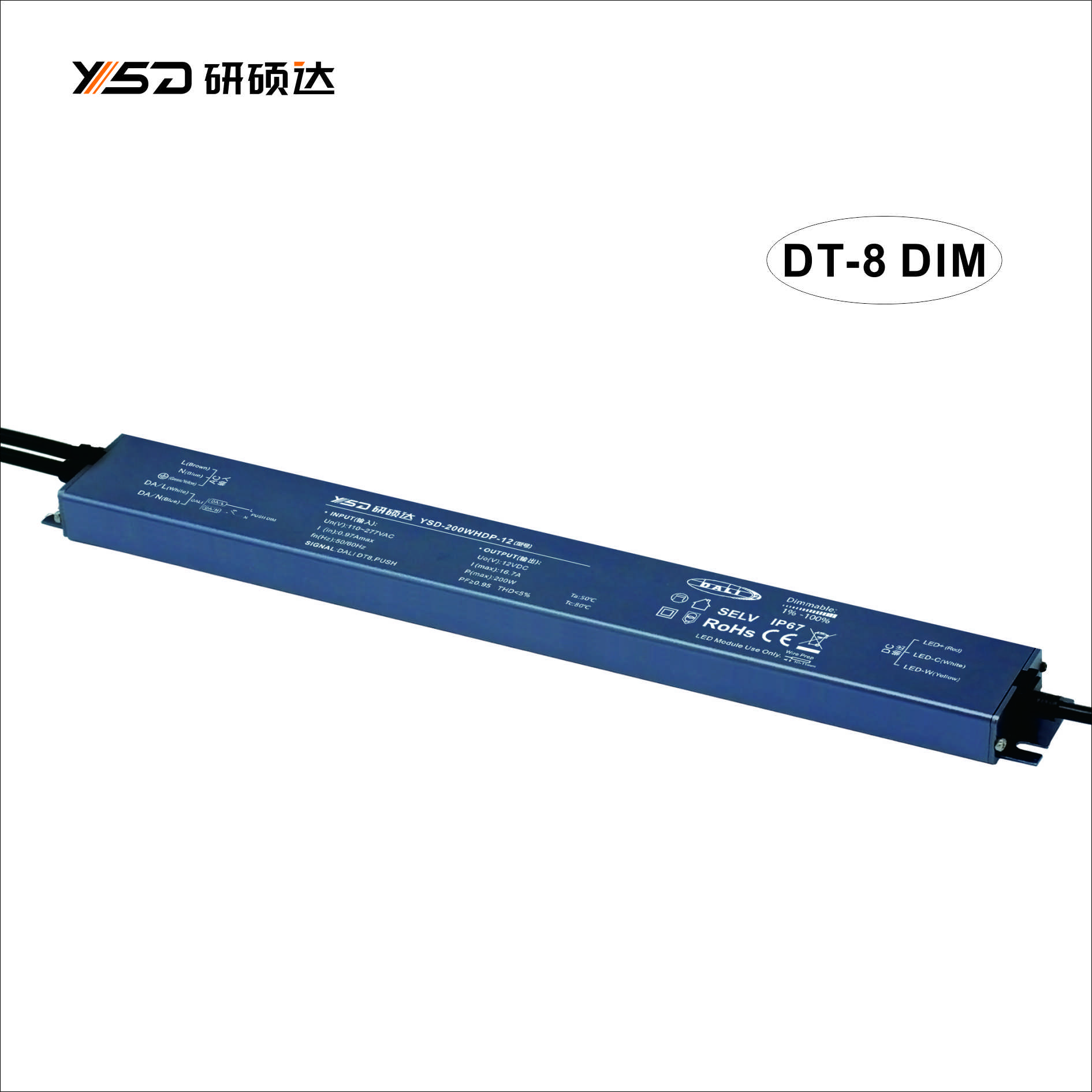 Key points of technology and process innovation:
High power 250W,
DALI2.0+PUSH 2in1 dimming, automatic signal recognition,
PUSH mode has brightness memory function,
Adopt mainstream PFC+LLC circuit, with high power factor and high efficiency,
IP67 protection level, can be used indoors and outdoors.
Practical application cases and user evaluation comments:
Yanshuoda DALI/PUSH 2in1 power supply adopts the same set of dimming control lines, which can realize both DALI dimming and PUSH dimming. DALI has obtained DALI certification, is compatible with various DALI controllers on the market, and also has a light fault feedback function, which provides great convenience for future maintenance. The product has been used in some hotels and clubs with good feedback. PUSH dimming is widely used in home decoration. The two dimming methods are integrated, and the price is similar, and can be used in more places, such as supermarkets, subways, airports, high-speed rail stations, logistics centers, conference rooms, offices, hospitals, hotels and many other occasions.